COMPLIANCE & BACKGROUND CHECKS
The ACA module supports proactive management of your ACA compliance strategy across your workforce. It provides the tools you need to effectively manage healthcare benefit compliance for both regular and variable hour employees, automate enrollment once they reach the eligibility threshold, and access both real-time and historical detail on ACA status for individuals and the entire organization.

WANT SOME HELP?
You need automated, integrated workforce management tools that can deliver high-quality information for driving cost-effective labor decisions and minimizing ACA compliance risk.
This powerful solution provides proactive management of your ACA compliance strategy across your entire workforce, allowing you to effectively manage regular and variable-hour employees' benefit compliance, along with applicable reporting. It's ACA compliance made easy!



ACA COMPLIANCE
Making sure your company is in compliance with all of the Affordable Care Act (ACA) requirements can bog you down. Most companies have worked with their broker or a consultant to determine their policy, but that is only the first step towards full compliance.
The process of notifying employees of your benefits policy, tracking wait, measurement, and stability periods, determining who's eligible and who's not, when they are eligible, and calculating affordability using safe harbor rules is challenging.
In addition, there are requirements for monthly data tracking and reporting of employee status… And, beginning January 1, 2017, fines of $100 per day for each failure to meet a requirement can be levied.
Good news! CPC can help you automate and manage the process of notifying and tracking employee's responses, employee eligibility, and enrollment requests. If your interested in how give us a call at (800) 728-0887 or email us at info@www.cpayrollco.com and we will guarantee you are 100% ACA Compliant.
Automated company ACA expense optimizer, simulator, and analysis
Automated notification documentation and time/date event history tracking for:

ACA company policy notification
Employee eligibility notification
Employees' offers and responses (Accept / Decline)
Period tracking and rules engine (Waiting, Measurement, Stability, and Administrative periods
Company and Employee ACA status real time reporting

ACA year end reporting 1095C, 1094C, (IRS regs 6055, 6056)

Automated benefits enrollment using HIPAA 834 enrollment data specification
Benefits Manager Solution
ACA Compliance Tracking
First, a simple setup process allows you to upload your ACA Policy and input various pieces of information about your policy and the benefit plans you offer. This includes your waiting, measurement, stability, and administrative periods. The solution will even determine the optimum employer contribution to benefits in order to identify potential fines while keeping employers' costs as low as possible.
Once setup is complete, the Solution initiates, tracks, and documents employee notification about your ACA policy. Employees e-sign that they have seen the company's ACA plan.
Next the Solution tracks the various eligibility periods and automatically determines if and when an employee is eligible for benefits. Once it determines an employee is eligible, notifications are sent and the employee's e-signature date and time-stamp receipt of acknowledgment is recorded.
Our Solution calculates safe harbor affordability rates for each employee and uses the company's ACA policy rules to determine the monthly employee premium contribution. This amount is presented to the employee with the automated eligibility notification. Our solution also tracks the decision of the employee to accept or decline benefits, and determines the monthly ACA status of each employee. Forms 1094c and 1095c will be generated for the employer and employee each year.
All this complicated work is done behind the scenes automating most ACA compliance requirements and making it efficient and easy for companies to manage and maintain.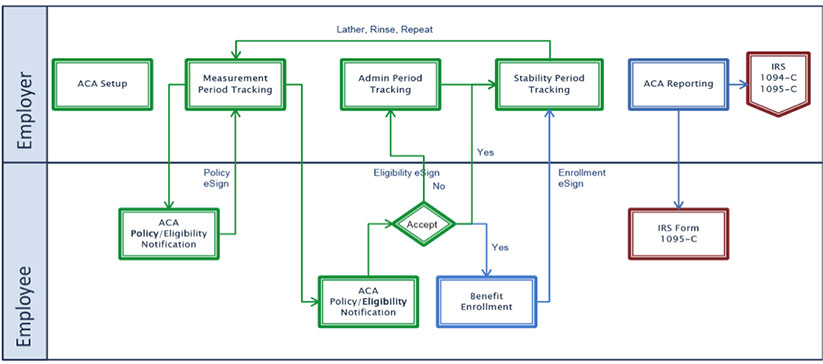 CPC BACKGROUND CHECKS
Even when very little is known about an applicant, NCS has the tools and resources to help uncover possible records even if those records are outside the applicant's current residence. NCS' multi-state database tool searches through over 507 million criminal records covering all 50 states plus the District of Columbia. It's a great resource to help uncover records that might have been missed without broader search tools. The Background Checks are offered through our partnership with National Crime Search (NCS), we now provide our customers access to a simple and affordable solution that are Pay-As-You-Go.
NCS provides full service background screening including:
Social Security Number Verifications
County criminal history searches
Multi-State database searches
Single state searches
Sex offender searches
Motor Vehicle Records
Healthcare Industry services
Tenant Screening
Volunteer Screening