TIME & LABOR MANAGEMENT
CPC now offers a built-in Time System through Payroll creating an All-In-One Employee Management Platform that's 100% integratable!! With just two clicks, you are able to process payroll without the hassle of collecting, tracking and reporting time.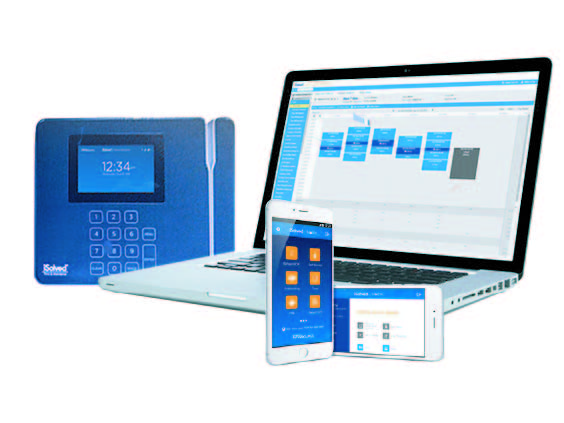 CPC's CLOUD BASED TIME SYSTEM
Information-rich dashboards, reports, and decision support tools provide organization-wide visibility and insights. Intuitive navigation features, including application tabs, quick links, and drilldown, let you find critical information quickly and easily. Instant access to timesheets, schedules, and other data empowers you to take immediate action and drive results.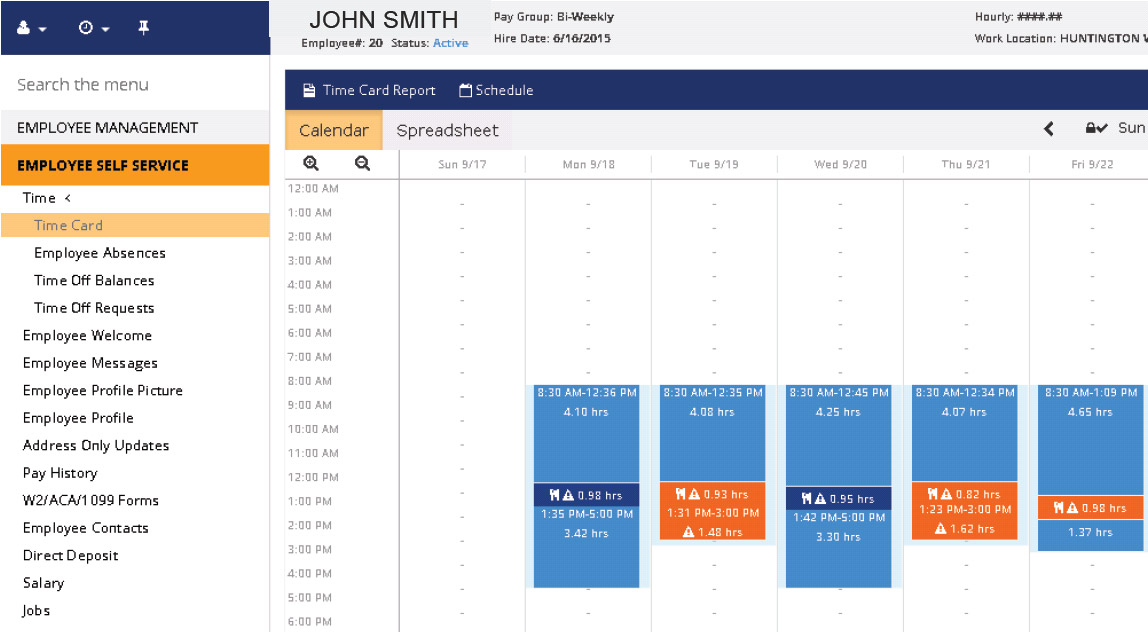 MANAGE EXCEPTIONS IN REAL TIME TO AVOID PAYROLL ERRORS
Exceptions such as missed punches, early/late arrivals, and extended or skipped breaks can result in payroll errors and increased compliance risk. Our time and labor management solution automatically flags exceptions that violate your organization's policies and alerts managers so they can take action. Complete automation eliminates timekeeping errors, while real-time calculations keep maintaining compliance and payroll accurate.
TIME & LABOR MANAGEMENT FEATURES & BENEFITS
Employee Scheduling
Accrual Tracking
Exceptions Tracking
Job Costing
Mass Edit Capabilities
See who's clocked in/out, in real time, from anywhere
Punch in/out with GPS coordinates
Flexible Pay Rules
Pay Categories
Powerful Reporting
Custom Analytics
View Timesheets
Time card alerts and notifications
Request/Approve Time Off
Compare actual times worked against scheduled
Save money by only paying actual hours worked
Manager Self-Service
Employee Self-Service
Manage early/late arrivals, absences & missed punches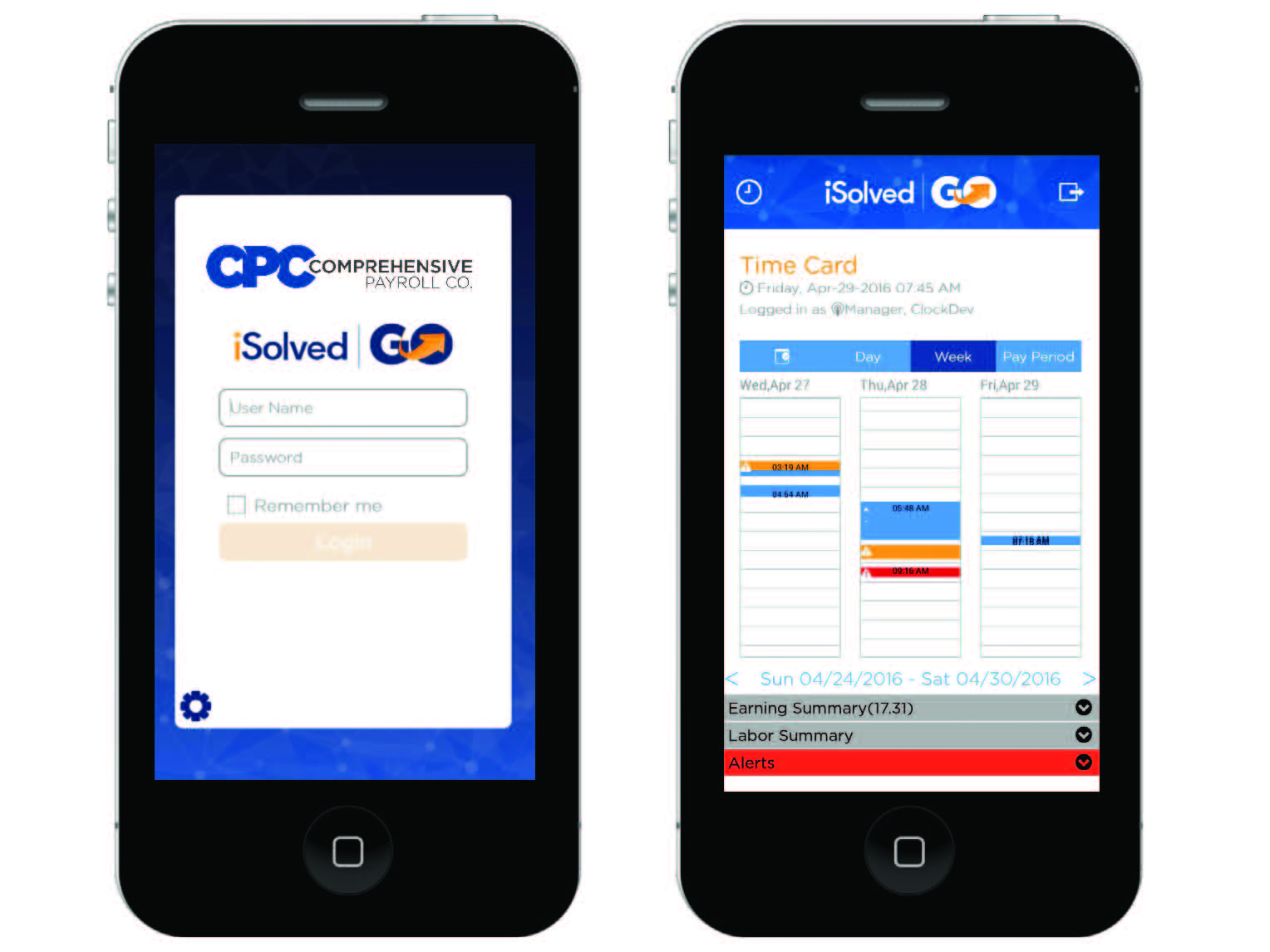 CPC'S MOBILE APP
More employees are working remotely and on-the-go, employers need a reliable solution to accurately track their mobile employees. CPC GO is tailored to give employees and managers more access to the information they need, when they need it, without interrupting HR. With the mobile application available in the Apple, Android, and windows application markets- employees can check schedules, place time off requests, and more. The mobile application provides known location geofencing, which enables an organization to restrict an employee from clocking in just anywhere. Managers can restrict employees from clocking in outside the radius of a defined location, down to a tenth of a mile.




Schedule the Right Employee in the Right Place at the Right Time
How can you build, fill, manage, and measure best-fit schedules that enable you to meet output and service level goals without overspending your labor budget?
Scheduling, an application in our integrated, cloud-based workforce management suite, helps you put the right employees in the right place at the right time so you can control labor costs, minimize compliance risk, and improve workforce productivity. Built specifically for small to midsize organizations, this comprehensive scheduling solution provides the automation and high-quality information needed to create accurate schedules that align staffing requirements with budget and demand. In addition, it enforces scheduling rules and policies — automatically and consistently — to help you avoid employee grievances, litigation, and fines. With the Scheduling application, your managers can finally spend less time creating and managing schedules and more time focusing on core business priorities to drive bottom-line results.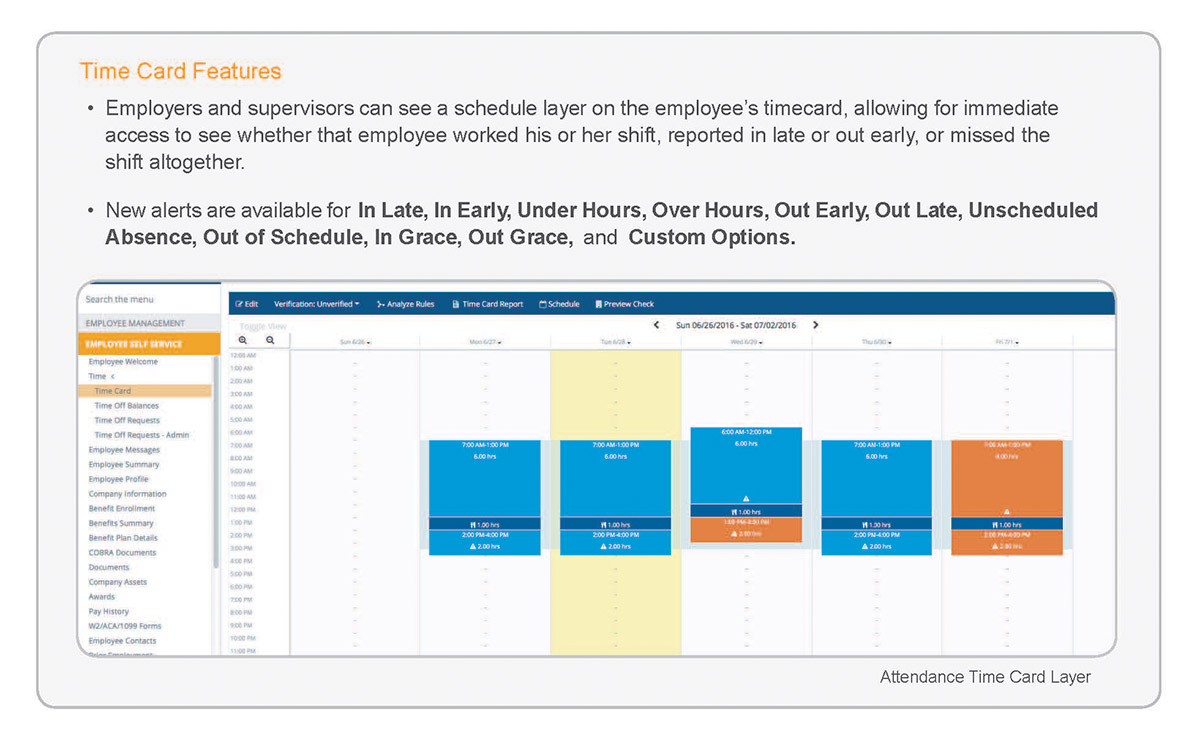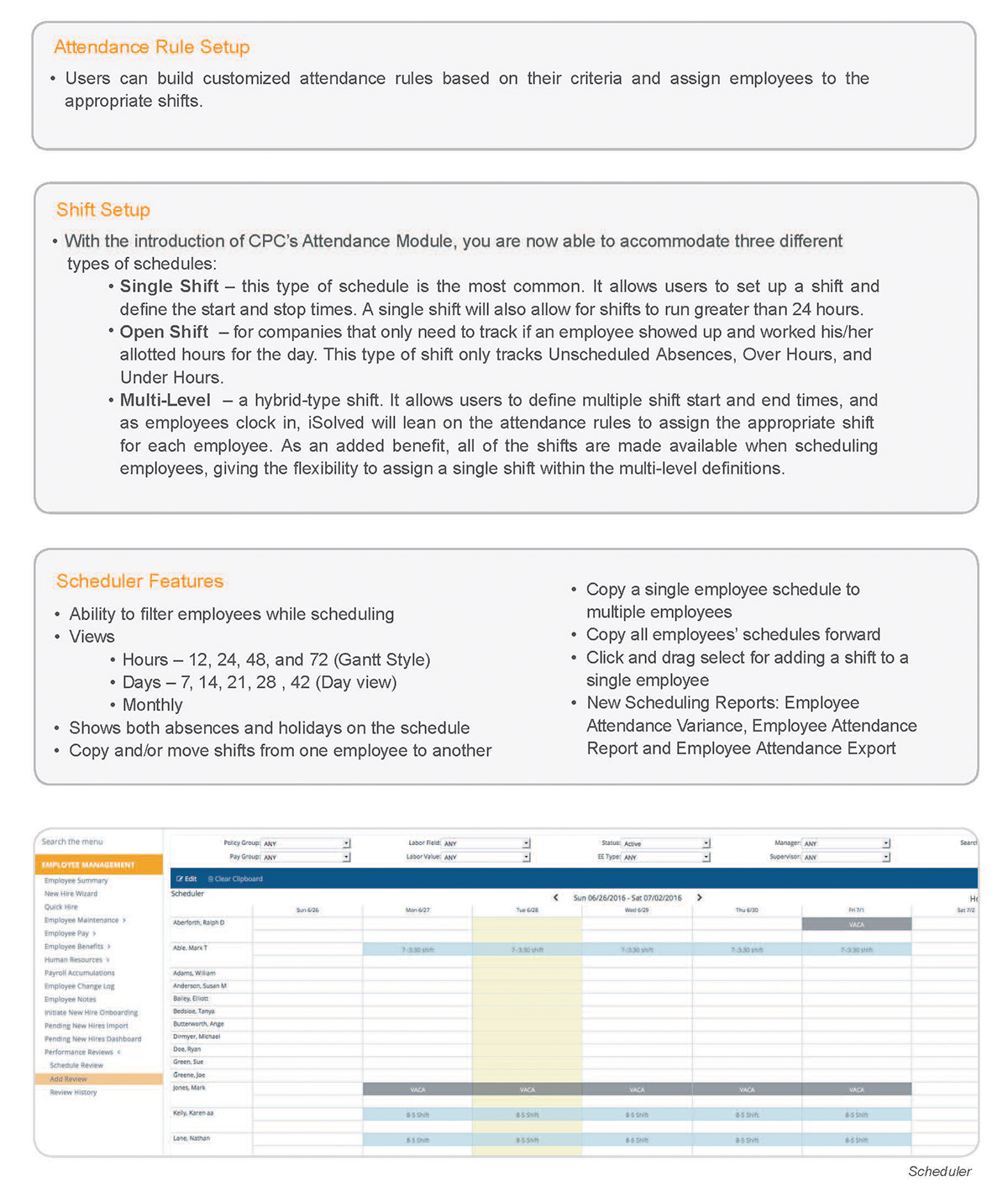 AVAILABLE HARDWARE
Comprehensive Payroll Co. offers a wide variety of Time Clocks for purchase. We offer everything from a simple Electronic Swipe Clock, to more high tech Biometric Time Clocks to Time Clock Software where employees can punch in from any location. All of our time clocks are equipped with the latest technology, cost efficient, accurate and easy to use. For more information click on the link below to see which time system fits your business needs the best.